Focused innovation with the patient at the center of our business.
At Perspective Therapeutics we've combined the best of two great companies - Isoray and Viewpoint Molecular Targeting. Together, with over a quarter century in the medical technologies market, we continue progressing down a path of focused innovation with the patient at the center of our business.
Our Focus
Our focus is on the advancement of cancer treatments using radiation, radiopharmaceuticals, and imaging technologies so our targeted medical doses are delivered directly to the tumor site. We believe radiation should spare healthy tissues and be delivered from the inside out.
Our Approach
We are committed to identifying ways to best deliver therapies for patients and their medical needs and believe in a targeted personalized approach to treating each patient's cancer. We develop treatments that are delivered exactly where the surgeon wants them delivered.
Strong Partnerships
Our partnerships and trials with globally recognized medical institutions and pharmaceutical companies are reflective of our goal to be at the forefront of progress and innovation. All of this is grounded in our continual pursuit of meeting and exceeding patient needs.
Our Technology
Our Radioisotope technology treats tumors on a cellular level when patients are most likely in early stages of cancers. We use proprietary targeting peptides to diagnose tumors, and then deliver Alpha-Particle Radiopharmaceuticals to attack them on a molecular level when the cancer has spread to other sites in the body.
The merger between Isoray and Viewpoint created a world-class organization with a vision of delivering personalized, targeted therapies from the inside out. Cesium-131
A unique radioisotope seed.
Perspective Therapeutics is the only company in the world manufacturing and distributing Cesium 131 brachytherapy radioisotope seeds. These seeds were designed to treat a variety of cancers including prostate cancer, brain, head & neck, and lung.
Our groundbreaking brachytherapy isotope, Cesium-131, has two important characteristics when compared to competing isotopes. It has high energy, which allows it to aggressively kill tumors, and a short half-life which means it leaves the body quickly after delivering the therapeutic dose. This enables patients to get back to their daily lives while receiving highly targeted therapy.1
Due to the unique characteristics of Cesium-131 we have been approached by leading cancer institutions to discuss combination therapies which we believe is one of the future value drivers for the company.
Currently there are two immuno-oncology clinical trials we would like to highlight. The first trial is with the University of Cincinnati and Thomas Jefferson University and is the first brachytherapy PD-1 inhibitor combination study in recurrent head and neck cancer combining Cesium-131 with Keytruda. The second trial, with another leading cancer institution, combines Cesium-131 with nivolumab to treat metastatic melanoma. These clinical trials have already led to discussions with other research institutions regarding how Cesium-131 can be used in combination therapies to treat difficult cancers.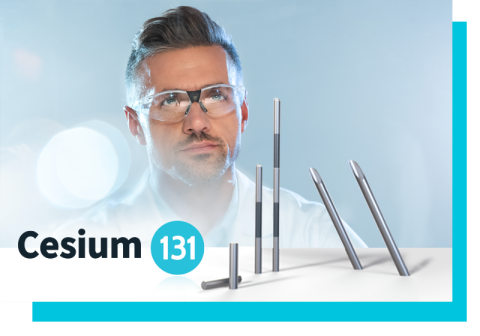 "Cesium-131 provides everything we want for prostate brachytherapy as both a monotherapy and in combination therapy, including delivery of a high dose of radiation more quickly for high- risk patients in a low dose rate 'setting.'"
Dr. Bernard W. Taylor
Texas Oncology.

Theranostics
The Combination of a Therapeutic and a Diagnostic.
Theranostics enable the ability to see a specific tumor and then treat it.
Using proprietary, specialized targeting peptides, we are able to diagnose and then deliver our powerful alpha-particle radiotherapy directly to the tumor. Utilizing a radioactive imaging agent, Pb-203, connected to a specific targeting peptide, we have the ability to diagnose the tumor. Following diagnosis, we link our alpha-particle radioactive isotope, Pb-212, to the same targeting peptide to treat and potentially kill the tumor. This two-step, personalized medicine approach offers the ability to understand which patients may respond to our therapy and potentially improve efficacy while minimizing toxicity associated with many other types of cancer treatments
Our leading Pb-212-based alpha-particle radiotherapies are designed to deliver powerful alpha radiation specifically to cancer cells utilizing specialized targeting peptides. Perspective Therapeutics is also developing complementary imaging diagnostics that utilize the same targeting peptide for the purpose of personalizing treatment and optimizing patient outcomes. This theranostic approach enables the ability to see the specific tumor and then treat it to potentially improve efficacy and minimize toxicity associated with many other types of cancer treatments.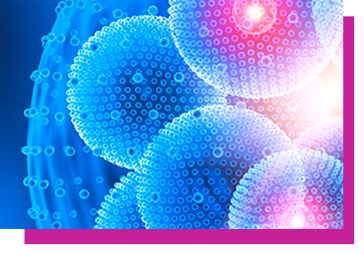 "Preclinical and clinical data associated with this new radiopharmaceutical demonstrates significant potential to help our NET patients. We appreciate the professionalism and scientific strength of the Viewpoint (Perspective Therapeutics) team."
Dr. Ishita B Sen MBBS
Director and Head of Nuclear Medicine, Fortis Hospital, New Delhi.