Sirius MRI Marker
Your path to better prostate implants. Brachytherapy seed placement is critical for prostate cancer outcomes. Cesium-131 paired with the Sirius® MRI Marker gives you a clear picture of every implant for highly precise prostate cancer treatment.
Better quality, better outcomes
Improved seed detection and localization dramatically impacts prostate cancer outcomes: 8-year prostate-specific antigen (PSA) relapse-free survival rates of 93% for high-quality implants versus 76% for low-quality implants have been reported.2

About Cesium-131
Perspective Therapeutic's proprietary isotope, Cesium-131, has over 10 years of proven patient outcomes for the treatment of prostate cancer. Additionally, Cesium-131 offers a powerful option for treating other cancers throughout the body.
Cesium-131
9.7 Day Half-Life
Cesium-131 has demonstrated shorter duration of bothersome voiding symptoms.
30.4 keV
Higher energy may lead to greatercoverage of the prostate.
33 days for 90% Dose
Rapid dose delivery rate.

About Sirius
The Sirius MRI Marker consists of a sealed biocompatible, polymer capsule containing a unique MRI agent. The length of each capsule is 5.5mm, and the diameter is 0.8mm. The MRI marker is intended to be implanted as a brachytherapy seed spacer that facilitates the anatomical post-implant localization of seeds.
Sirius® MRI Marker
The First Positive Signal MRI Marker
Sealed biocompatible polymer capsule containing a unique MRI agent.
Seed Localization with MRI Alone
Sirius® Markers are optimally visualized using a standard fully balanced steady-state free precession MRI sequence, and can positively identify the location of Cesium-131 seeds.
Improved Prostate Contouring
The superior image quality of MRI could improve the accuracy of prostate contouring.
A strand of Cesium-131 paired with the Sirius MRI Marker delivers a clear picture of every implant without changing your surgical procedure.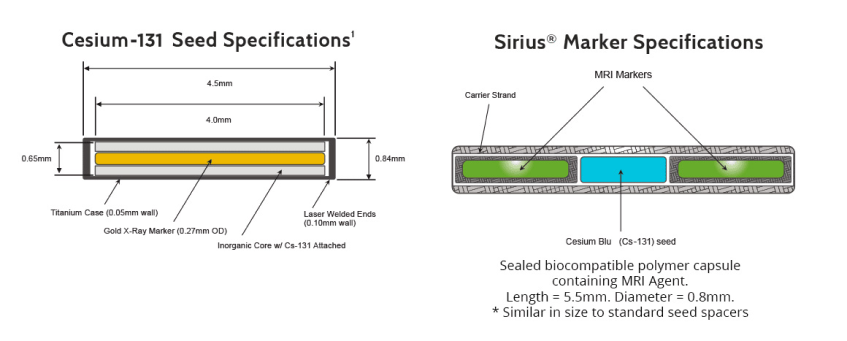 Cesium-131 Products

Want to know more about the versatility of Cesium-131
Learn more
Questions?
Do you have questions? We can help with any issues you may have
Contact us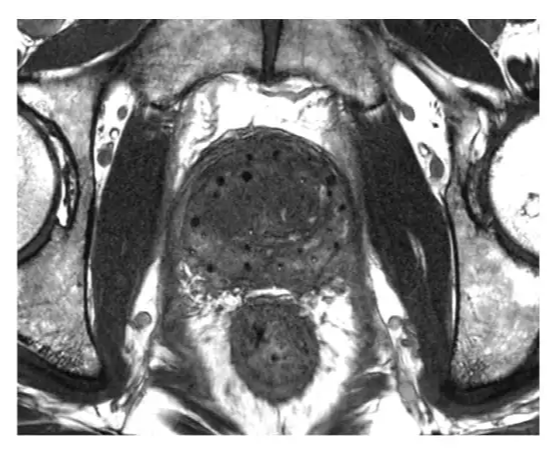 See the difference
MRI allows for visualization of critical intraprostatic structures and soft tissue differentiation.
Your Isotope Choice Makes a Difference
Not all brachytherapy radioisotopes are the same. Compared to alternative brachytherapy seeds, Cesium-131 offers the highest energy and shortest half-life.
| Isotope | Introduced | Half life | Kev | Delivery rate | Detectable in the body |
| --- | --- | --- | --- | --- | --- |
| Iodine-125 | 1965 | 60 Day | 20.8 | 204 Days for 90% Dose | 600 Days |
| Palladium-103 | 1987 | 17 Day | 28.5 | 58 Days for 90% Dose | 170 Days |
| Cesium-131 | 2004 | 9.7 Day | 30.4 | 33 Days for 90% Dose | 97 Days |
References
1. Frank SJ, et al. American College of Radiology Appropriateness Criteria: Permanent Source Brachytherapy for Prostate Cancer. Brachytherapy. 2011:10(5):357-362
2. Cesium-131 Instructions for Use
United States Brief Statement
Cesium-131 brachytherapy seeds are indicated for the treatment of malignant disease(e.g., head and neck, eye, brain, breast, prostate, etc.) and may be used in surface, interstitial, and intra cavitary applications for tumors with known radio sensitivity. The seeds may be used as a primary treatment or in conjunction with other treatment modalities, such as external beam radiation therapy, chemotherapy or as treatment for residual disease after excision of primary tumors. Contraindications: As with other brachytherapy sources, treatment of tumors in generally poor condition (e.g. ulcerated) is not recommended with Cesium-131 brachytherapy seeds due to the potential for source migration. Prior to use, please reference the Cesium-131 Instructions for more information on indications, contraindications, warnings, all precautions, and adverse events.
Caution: Federal law restricts this device to sale by or on the order of a physician.