Brachytherapy is an effective, patient-centric alternative for cancer patients.
With higher energy and a shorter half-life than competitors, Cesium-131 is proven to be a highly customized and effective treatment for the rapid recovery of patients in the fight against prostate cancer.
Why brachytherapy?
Not all brachytherapy radioisotopes are the same. Cesium-131 offers you a powerful option for treating prostate and other cancers throughout the body.
Comparing Treatment Times for Prostate Patients
| Brachytherapy | Radical Prostatectomy | External Radiation (IMRT) |
| --- | --- | --- |
| Out-patient treatment, single visit, rapid return to activity. | 1-2 day hospital stay, 2-4 week return to activity. | 40-45 treatment sessions over 8-9 weeks. |
What are the advantages and disadvantages?
Advantages
Used to treat tumors of the brain, head and neck, gynecologic, prostate, lungs and other solid mass tumors.
Places the radiation directly where it will do the most good, and limits dose to surrounding tissues.
Minimally invasive, with no surgical incision and thus has shorter recovery times than other invasive treatments. (1)
Is one of the most cost effective treatment options available.
Has good local control rates for several types of cancers.
Customized to deliver the treatment dose your physician determines is the best to treat your cancer.
Allows for additional treatment options, including surgery, radiation, cryosurgery, hormonal therapies, and others.
When placed at the time of the surgical procedure, does not require repeat visits for treatment, as with typical radiation procedures.
Disadvantages
Generally performed under general anesthetic, which may have side effects.
May require limited prolonged contact with others immediately after treatment, to limit dose to healthy individuals.
Like many prostate cancer treatments, low dose rate brachytherapy (LDR) may have side effects, including urinary and rectal complications and impact on sexual function.
Provides a very targeted treatment, if your disease is not in the treatment zone, your cancer may not be treated.
Brachytherapy vs. Other Cancer Treatments
One treatment is not necessarily the best treatment for everyone.
Ask your physician about the benefits of seed brachytherapy and if it is an option to treat your cancer.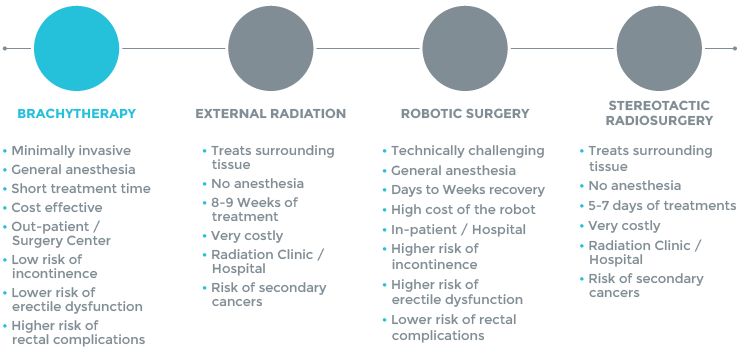 Brachytherapy is highly effective as well as cost-effective.
Many factors contribute to a treatment's overall "effectiveness". In addition to being shown to be highly effective in treating different forms of cancer, brachytherapy is a fraction of the total cost to the healthcare system when compared to other popular treatments.
Re-purposed from the International Consortium for Health Outcomes Measurement; MD Anderson Cancer Center via HBR.org. See original article here.